We are an ALL volunteer youth organization dedicated to promoting and encouraging the sport of wrestling. Get all the up-to-date information on the Cedarburg Matdogs wrestling program – including important news, calendar of events and contact information!
2018 Tournament Schedule is posted click here
The 2018 Season started January 4th.
Practices are in the Cedarburg High School Wrestling room.
Jr. Matdogs (1st-5th) practice Mondays and Thursdays 6-7pm
Sr. Matdogs (6-8th) practice Tuesdays 6-7:30pm and Thursdays 7-8pm

Need a haircut? Try SportsClips in Mequon, a 2018 Matdog Season Sponsor.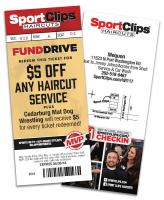 click for coupon
Interested in becoming a sponsor?

We are now an official non-profit and all donations are tax deductible

Click here
to learn more.